Hannah & Michael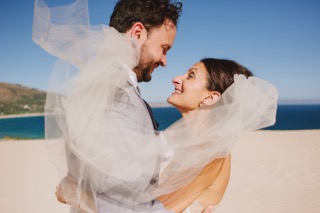 "On the wedding day in particular, Jolanda was an absolute trooper"
If you plan to get married in Tarifa, look no further than Jolanda of Tarifa Events. Michael and I were organising our wedding in Tarifa whilst based in New York, and without Jolanda, we simply could not have pulled of the magic that Yolanda did.
During the planning stage leading up to the wedding, she was a pleasure to deal with, always offering a curated selection of options to us, which allowed us to make informed decisions quickly and effectively. Jolanda also kindly offered to help field questions from our guests taking a big chunk of the pre-wedding planning off our hands, a blessing having invited guests from all corners of the world.
The wedding week itself was so smooth for all of us, thanks to Jolanda's tireless efforts behind the scenes. From the welcome drinks at El Chiringuito, to the wedding day itself, and finally rounding things up at Tumbao, the whole vibe of the week was all that we imagined and more. On the wedding day in particular, Jolanda was an absolute trooper. She was with us from 10am until 5am, making sure that everything happened on time and that the guests all made their way home happily at the end of a beautiful day.
We cannot commend Jolanda enough, she was absolutely incredible and we are forever thankful to her.