Jessie & Marc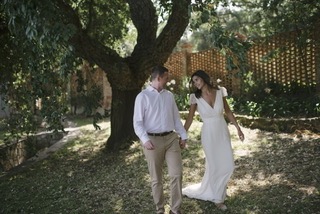 Thank you so much for guiding us superbly through the whole process of holding Jessie and Marc's wedding at our home.
We loved working with you and your coordination of all the aspects was utterly brilliant throughout. The wedding days were a joy and we could relax knowing that you had everything in hand and would quietly and thoughtfully respond to any eventuality. It took some planning to get everything just right. The transport of the guests, the ceremony itself, the cocktail reception, the sit down meal, the dancing and the following day the fabulous pool party, all were perfect!
You were always wonderfully cheerful, hugely positive and you gave us great advice all the way along. Thank you again for everything! We truly think of you as a friend, keep in touch!